DISTRICT ZONING REGULATIONS IN THE WORKS
LOCAL, BUILDING, CODE, REGULATION, PLAN, PLOT, KÉSZ, HÉSZ, KVSZ, KSZT, ZONING
The Local Government is obliged to review its local zoning regulation at least once per 4 years and decides on keeping, amending or repealing it.
The decision shall be published by notice. The comment period regarding the prepared zoning measures is open as set forth in the notice (30 days usually). According to the rules on partnership negotiations, inhabitants of the district, churches functioning in the district and advocacy, civil and business organisations registered at the Budapest 12th District 'Hegyvidék' Local Government for opinion procedures may partake in commenting. This is the window to submit individual amendment motions as set forth in the notice.
Amending the zoning measures may be suggested outside a comment period, however, these motions are registered and put on hold until the next amendment's date.
Schedule of District Building Codes in the works
green – District Building Code [KÉSZ] in effect
gray – Planning to commence, deadline for approval: 31st December 2021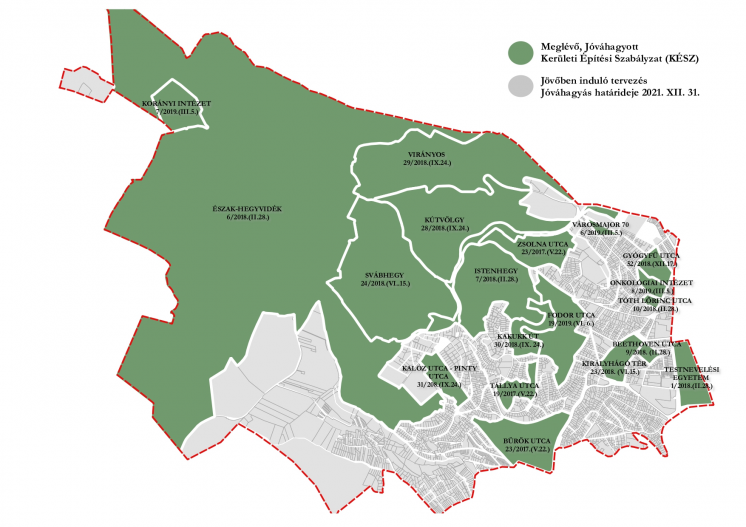 District zoning regulations in effect can be accessed: Minerva Geographical Information System and building codes in the GIS application.
News on the District Building Codes can be viewed here.
ADMINISTRATION PROCESS
During a comment period, a written application submitted within the deadline set by the relevant notice may be used to arrange an appointment with the Mayor.
After which the council – taking into consideration the evaluations – makes the decision on acceptance or refusal of the opinions, which should be published along with the grounds for the refused opinions.
The council may decide on initiating an amendment of the zoning plans upon receipt of amendment applications filed outside a comment period that are professionally sound.
The procedure to modify is executed subject to relevant legislation.
The procedure closes by a decision to adopt the amendments which is published by notice.
Discussions and adoption may take several months depending on the type of the procedure and the scope of amendments
Administrators:
Ms. Gehér-Horváth Anikó zoning administrator
phone: 224-5900/5337 Zoning and Head Architect Office, Room 307.
Ms. Nemesházi Lászlóné zoning administrator
phone: 224-5900/ 5269 Zoning and Head Architect Office, Room 307.
Required documents
Written opinion containing the subject of the opinion procedure, the name and, for organisations, the representative of the expert, the postal address and e-mail address thereof and an actual narrative draft of the suggested amendments if possible.
Written petition containing the name, address and contact details of the applicant
Precise address and land register reference or defining borders of the area suggested to be amended
The description of the suggested amendments to the zoning plan with concise reasoning.
Payment information
No duties charged.