Electoral district No 7 – Krisztina Fonti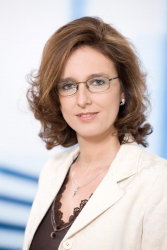 E-mail: fonti.krisztina@hegyvidek.hu
Ms Fonti was born in Budapest in 1968. She grew up in the 1st District but has had strong ties to Hegyvidék since she was a child. She has lived in the 12th district for twenty-one years and has two adult children. A few years after earning her master's degree as a Hungarian-Italian high school teacher at Eötvös Loránd University Faculty of Humanities, as a Hungarian-Italian high school teacher, she graduated from the College of Foreign Trade with a postgraduate degree in marketing communications.
He worked as a language teacher for years, first for three years in Rome and then in Budapest. From 2000 she was involved in organizing scientific conferences and editing multilingual publications, participating in the creation of several significant collections of scientific essays.
She has been serving as a municipal representative since 2006. She became the Deputy Mayor of Hegyvidék in 2010 and in this capacity she was responsible for education, community culture, religious affairs, town twinning, and student and mass sports in the district, and was also responsible for health and welfare institutions under municipal control. The newly formed Representative Body has once again elected her Deputy Mayor.